Skip to Content
Laser Tracking Technology in Ogden, UT
The professional laser tracking technicians at RSW Reverse Engineering & Machining utilize top-of-the-line technology and hardware to flawlessly track products and parts for machining and replicating. We proudly use "the world's most trusted source for 3D tech," the FARO 3D laser tracker. This advanced technology provides us with pinpoint accuracy during laser tracking to provide our machining technicians with comprehensive data. This constant innovation pushes the limit on creating better products and processes, all while allowing us to deliver jobs to our clients faster, cheaper, and with more accuracy. By charting exact data that is compared with computer-aided design (CAD), the FARO 3D laser tracker is capable of storing values and can easily visualize your product. We can use our laser tracker technology to create large-scale 3D inspections as well as reverse engineering so you can produce projects with dimensional integrity that are replicative with tremendous precision.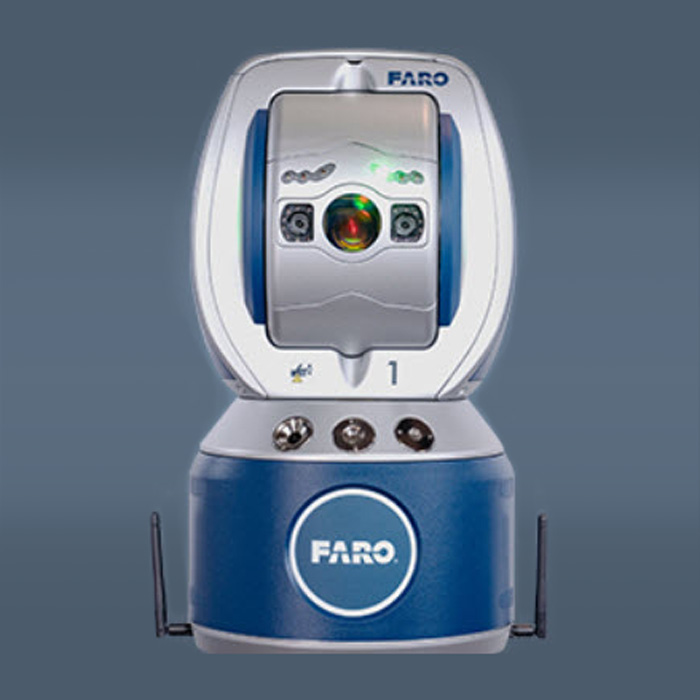 High-Tech FARO 3D Laser Tracking
The FARO 3D laser tracker gives our technicians the ability to measure the parameters of objects and parts big and small with incredible accuracy. The 3D FARO laser tracker is a portable device that sets the standard in the industry. The groundbreaking technology can provide measurements with an accuracy of better than 0.001". FARO 3D is constantly accelerating initiatives to give us the technology we need to deliver accurate and quality measurements through laser tracking. It works by measuring 3D coordinates via a base coinciding with a spherically-mounted retroreflector (SMR). The SMR is placed on various points of the object and then sends data back to the base while it simultaneously performs thousands of micro adjustments and calculations. Additionally, the FARO 3D takes elevation and rotational angles into consideration, as well as distance, before comparing that with CAD data to provide us with flawless measurements. This advanced technology can be used on projects with small intricate parts or large structural segments. By choosing to work with us and our top-of-the-line laser tracking technology, you will be taking advantage of the following applications:
Machine installation/alignment
Assembly alignment/inspection
Manufacturing process installation
Dimensional inspection
Tool building
Reverse engineering
Geometric dimensioning and tolerancing
How Laser Tracking Works
Understanding the advantages of using our in-house laser tracking system will help highlight how it can benefit you and your project. Our 3D FARO laser tracker performs its measurements in the following ways:
Distance Measurement – Laser trackers operate by measuring two angles and a distance. The tracker will send a laser beam to a retroreflective target held against the object that is to be measured. The reflected beam will then return to the tracker, and its exact distance will be recorded.
3D Measurement – Next, two angle encoders will measure the elevation and rotational angles of the object while a highly-accurate absolute distance meter will simultaneously determine the 3D position of the target. This position will be shown in our software as an X, Y, and Z value.
Tracking – The target will return to the reflected laser beam parallel and then offset back to the tracker where it will hit the position detector, calculating the offset between the outgoing and incoming beam. Motors moving at 1,000 times per second will then steer the tracker's head to minimize the offset between the two beams, which will result in high-speed, dynamic measurements.
Laser tracking has become the best possible way to gather the most accurate and reliable 3D information in nearly any measurement environment. Its potential is boundless, making it the best possible option for high-accuracy measurement solutions for multiple applications.
We Save You Money and Time
 By utilizing the FARO 3D laser tracking system, our trained technicians at RSW Reverse Engineering & Machining can complete jobs faster, eliminate costly scraps, reduce downtime, and provide exact, consistent, and reportable measurement data to our clients. With the combination of our skilled professionals and the use of FARO 3D, you'll never have to worry about receiving incorrect data. Additionally, by comparing FARO laser tracker results with CAD data, you create a double guarantee regarding measurements for your needed part. The correct measurement at this stage means that you won't have to machine a part multiple times to get it right. The data we send to you will be entirely accurate, and we will be able to deliver it in significantly less time due to the speed of the FARO 3D laser tracker. If you want to save money and time on your next project, rely on RSW Reverse Engineering & Machining to provide exceptional in-house laser tracking services. Contact us today to learn more!
Introducing the FARO Vantage Laser Tracker
Call to Schedule a Consultation